A Happy Announcement
Later this week we'll be bringing home a new addition to our family. Her name is Rusalka and she's a little tortoiseshell kitten that we'll be adopting from one of the local shelters. We've spent the last week going through the checklists of preparations. There's a new cat bed waiting, and a new cat tree for Rusalka and all of her sisters to enjoy. There are new cat toys. We're excited and we can't wait to bring her home.
A new kitten is always a bundle of trouble. We know it will mean a bit of chaos, maybe some lost sleep, and at the very least a few new routines to learn. But every bit of that trouble is worth it because it comes with so much joy and happiness. It comes with so many memories. We still talk about when the other cats were kittens and still spend many an evening with the phone out, looking at photos of the small balls of fluff.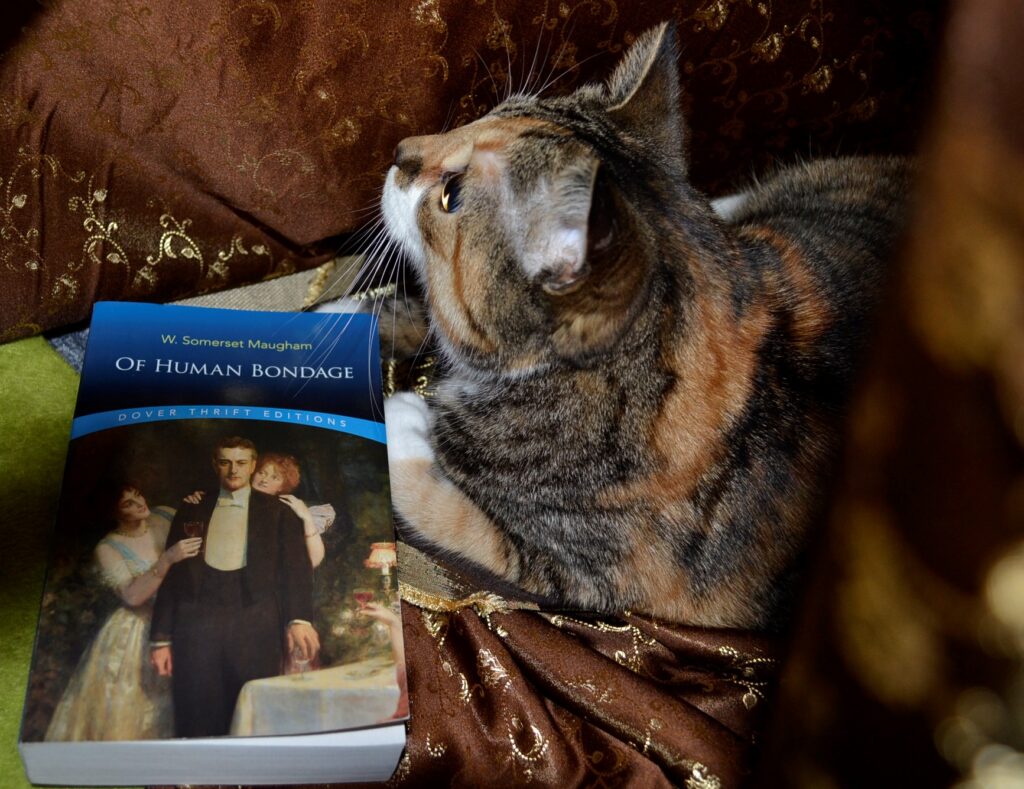 It's been a difficult year so far, but I'm hoping that the last few months of it will be easier as we focus on Rusalka, the rest of our cats, and the simple pleasures of our quiet life in farm country.
The Perils of Youth
Of Human Bondage is a book that's primarily about Philip Carey's struggle to find his place in the world and make sense of it as he grows up, chooses a profession, and decides the course of his life. It's a coming of age novel in a sense, but the scope of it goes beyond the normal sphere of those narratives and into the realm of Philip determining what he sees as the meaning of life.
Maugham is arguing in this book that although many look back on their youth with a sense of nostalgia and an idealization of the past, youth is actually a time of upheaval. Painful upheaval. It's a time where one learns about what the world is for oneself. Sometimes that means coming to grips with the fact that the picture that's been painted by others isn't close to reality. Maugham specifically focusses on the time spent learning how to manage money and deal with people. He also focusses on educational experiences that aren't solely academic, but have to do with society and social classes as well as life in a major city or a foreign country.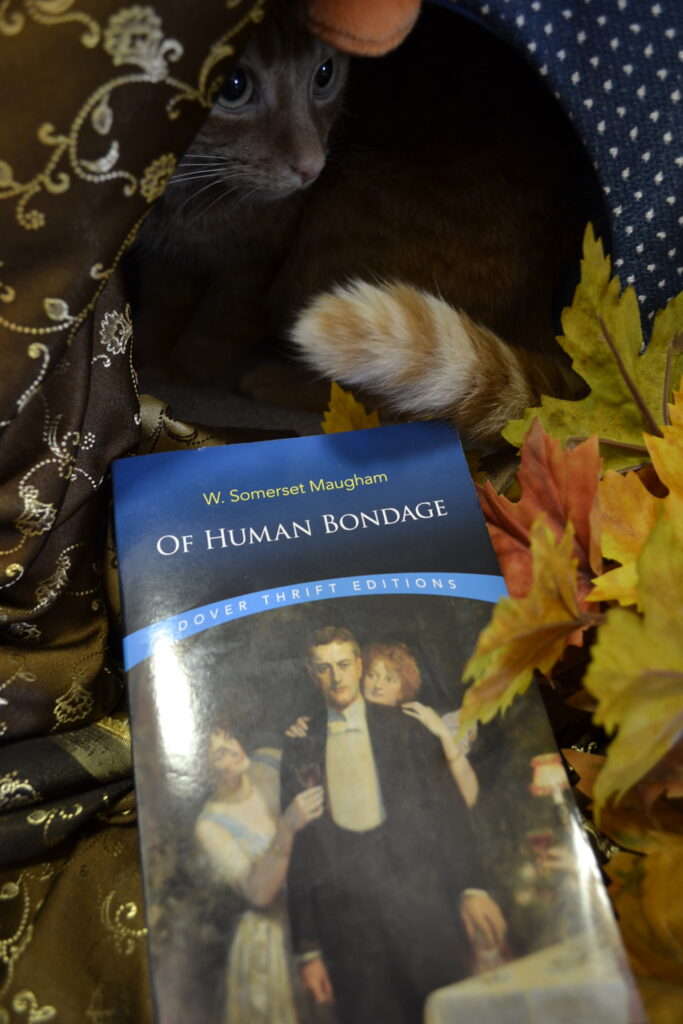 Obsession
I was first introduced to Of Human Bondage via the 1934 film of the same name that was very loosely based on it. We watched it on Turner Classic Movies one evening and I thought perhaps that the novel would fill in some of the gaps that I saw in the film. Additionally, I'm always curious to read books that were popular historically or had any kind of historical significance.
The film focussed on Carey's obsession with Mildred — a waitress in a tea shop. He can't keep himself away from her or keep himself from bowing to her every whim even though she doesn't love him and treats him horribly. She destroys his life repeatedly and still he throws everything away for her more than once.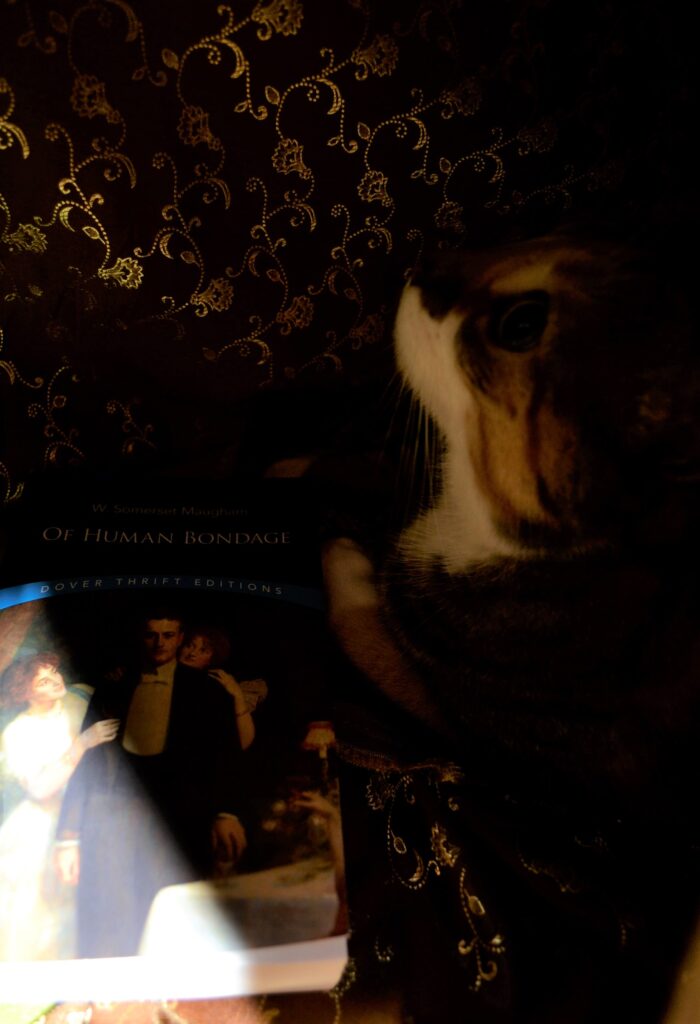 The obsession forms a large part of the book's narrative, however, it only comprises about a third of the story. Of Human Bondage also includes the story of Carey's two years in Paris attempting to be an artist, his childhood, and time working in a department store. It's a story that is partially autobiographical and partially philosophical, discussing a lot of ideas about life and art and artists.
I will say that the parts of the novel that focus on Mildred are, by and large, the most driving. The plot moves forward quickly and the pacing is quite compelling in these sections. There are other points that are just as interesting, but the other plots are not quite as quick to read or as much of page-turners as consistently. For instance, the Paris part of the book dealing with the character Fanny Price moves quickly and keeps the reader reading, but that plot is broken up by the larger one about paintings and art which slows down the overall pace considerably.
The Meaning of Life
If you read this book, I will warn you to pay attention to the gift of the Persian rug. It is a gift that is brought up often later on in the novel, and that the author keeps returning to because it symbolizes the conclusion that Carey comes to when he finally decides he has found the meaning of life.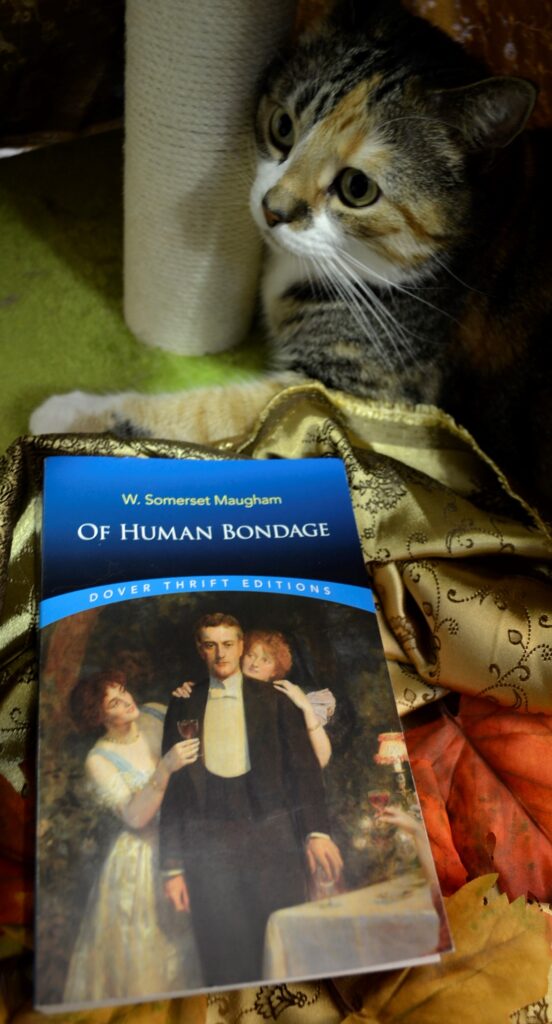 As much as Maugham put into this aspect of the novel, I didn't find it as compelling as the narrative parts of the book. I don't mind some philosophy mixed in with literature, but I found that in Of Human Bondage it slowed the pace of the narrative a bit too much. It took me quite a while to finish the book because I was continually putting it down and leaving it for a while in my stack before I started reading it again.
Too Short? Too Long?
Of Human Bondage is a whopping 122 chapters and well over five hundred pages. Does it have to be that long?
The novel contains a lot of plots, characters, and events, but I'm not sure all of that material is really necessary to the narrative. Maugham is trying to create the feeling of being along with a character on said character's journey of growing up and gaining experience of the world — and that he accomplishes. But, at the same time, there are several points where the book seems to exists almost in sections. The section on Paris is somewhat separate from the section where Carey is in Germany. Carey's childhood and medical education seems a separate book almost onto itself. So are the parts that deal with Mildred.
There is a progression and every plot feeds into every other one, but at the same time it seems like the novel could include less of each plot and still have the same effect. Perhaps the book could have been about 450 pages and still accomplished all that it accomplished.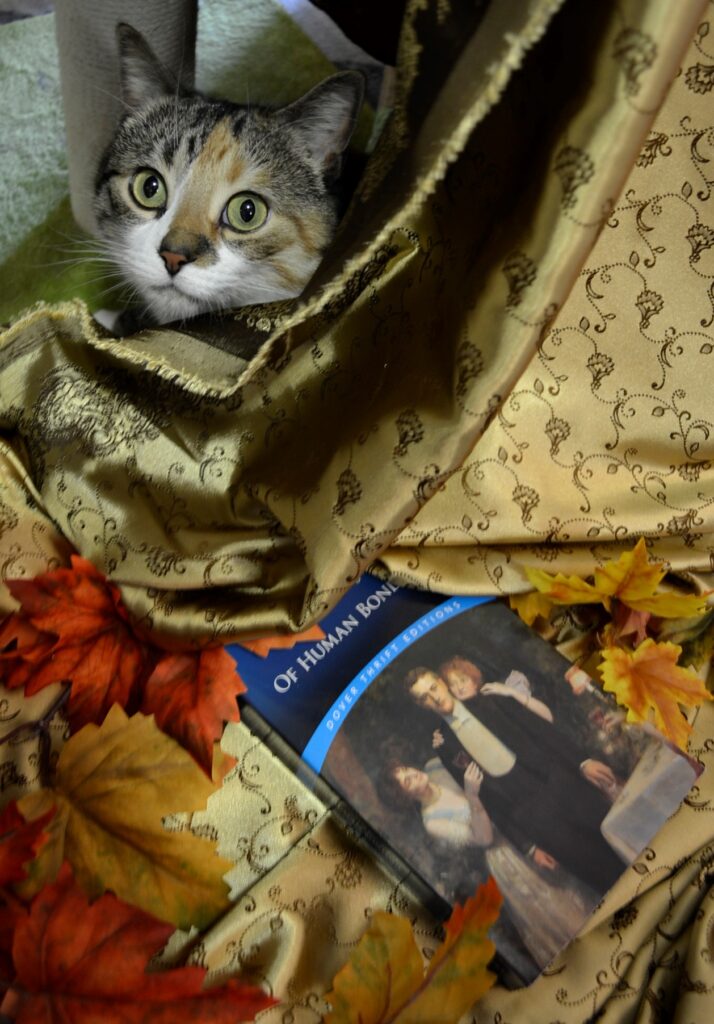 Like Waiting for Christmas
Last week, when we were in the pet supply store and getting a few things for the new arrival, we were talking to the owner and showing her pictures of Rusalka. She asked when we were bringing her home from the shelter and said it must be 'like waiting for Christmas'. In a lot of ways, it is. Christmas is my favourite time of year, and the joy and warmth of the season is something I always look forward to. Right now, I'm looking forward to the joy and warmth of bringing home a new member of the family.
It seems like forever until we bring Rusalka home. I have to keep reminding myself that we'll be making the trip in only a few days.