Books and Warm Wood Floors
It's been a hard week and Wednesday was a particularly difficult day. I won't go into the details, but I spent most of the morning trying to keep myself calm and most of the afternoon in tears. In the middle of all of the upset and the sobbing, my lovely spouse drove me through the reawakening main street of our small town and took me by the hand as I shakily got out of the car and we started to walk past the newly opened patios of the restaurants.
I knew where we were going and I protested quite a bit. Because we have bills to pay and a mortgage to think about and most of the time it feels like we're scraping by with the help of credit. I know the last thing we need to buy is more books for my stacks.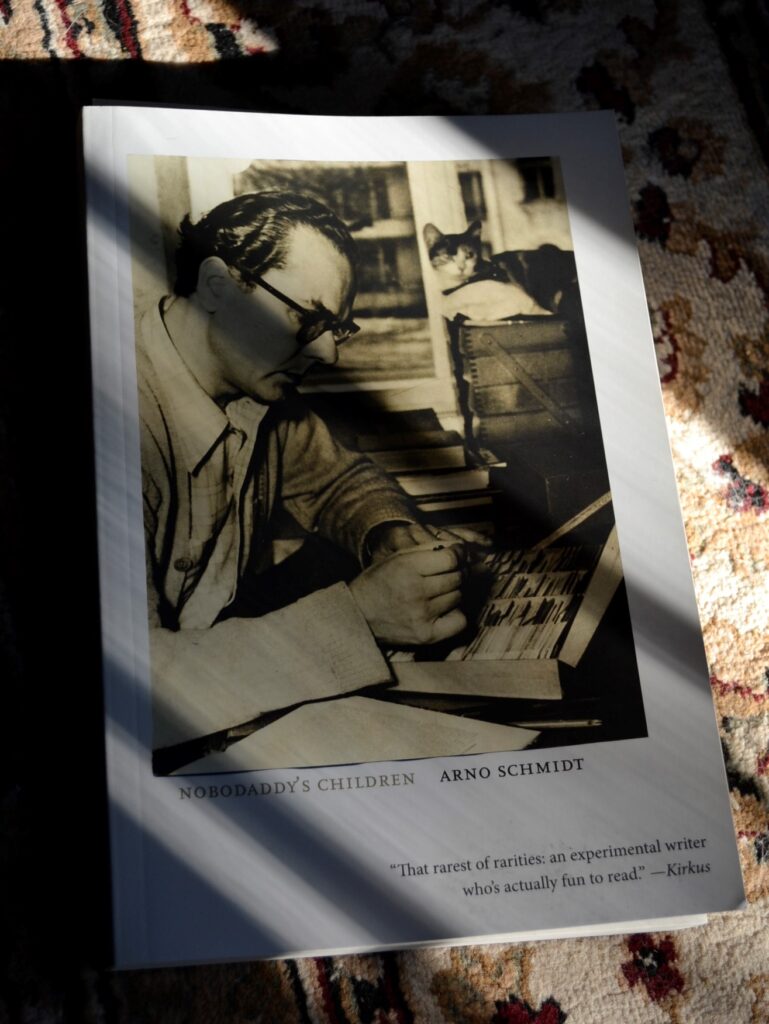 But my lovely spouse never heeds this protest. Instead, she gently tugs me inside our local independent bookstore and whenever I so much as glance at a book for more than a millisecond, she scoops it into her arms and takes it to the cash register. I always end up with at least five or six new books. More importantly, I always end up feeling a bit better because my lovely spouse is there, holding my hand, telling me that everything is going to be okay and that a bad day doesn't mean it's going to be a bad week, or bad month, or bad year. She always makes me feel so happy and grateful for everything we have. She always makes me smile and feel loved, no matter how bad of a day it is. Her tokens of affection warm me all the way to my toes and I'm grateful for each and every one of them.
But what I'm most grateful for is her.
Arno Schmidt and Modernism
I'm pretty sure I've said it before and, if I have, I'll say it again: modernist writing is not everyone's cup of tea. It's an exploration of form, language, and words and can take a bit of patience and effort to read and interpret.
In some modernist novels that I've read, I've noticed a particular trade-off that sometimes happens between form and narrative. The onus is on the words, structure, and how they are composed, but because of this the actual story can get lost or become very hard to follow. I was pleased to see that Arno Schmidt is a writer that can perform the delicate balancing act of pushing the limits of form without leaving the narrative behind to do so.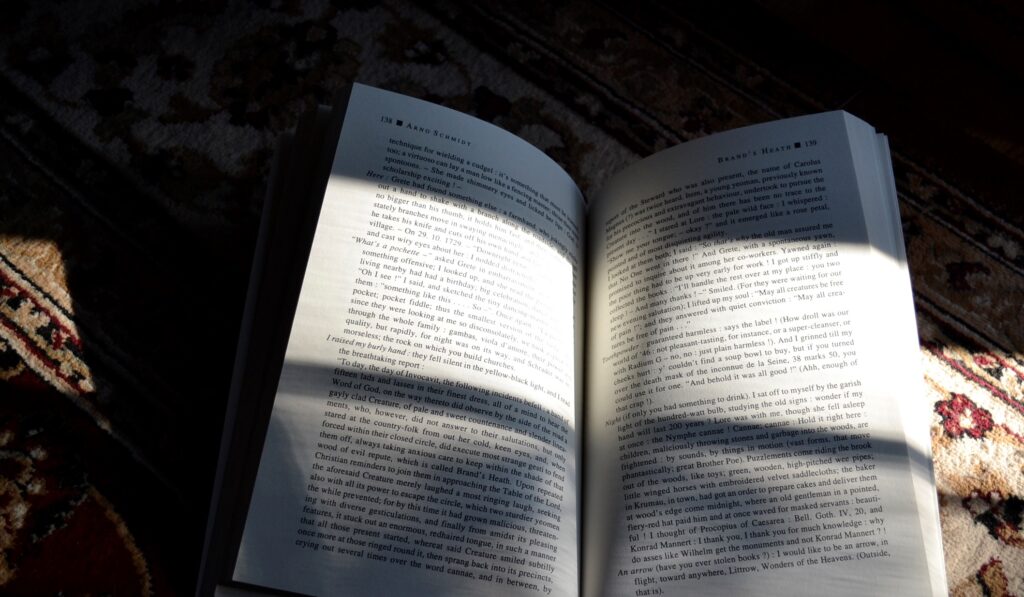 In Nobodaddy's Children, Schmidt's descriptions and the flow of words leave a haunting impression behind them. They also put the reader directly into the space and experience they relate in a way that I have rarely seen authors be able to accomplish.
For example, take a look at this excerpt from Schmidt's description of a department store.
Skirt hems slink about girlfriends (high-school seniors); carpet-stretches, mutely bedded roundabout by housely wives (oilcloth souls, bodies like shopping bags); records gently playing for us fold wired for sound, black-smocked girl trainees drag around cardboard boulders, escalator solemnly trimmed with statues, and right next to them signs blockade atop scratchly cocomats: Only one fifty! Hey you! Customer! And more bovine leather batteries, smoking gadgettes; chamoisly the world is off to rack and ruin.
Schmidt manages to re-create the noise and confusion of a busy store and the chaos of products and salespeople and customers all crowded into one space. His writing technique alone makes this author worth a read — though, as a warning, Schmidt's works are rarely translated. It's obvious why when you start reading his writing. His work is extremely complex and the words he uses are very carefully chosen. Both of those things present a major challenge to a translator.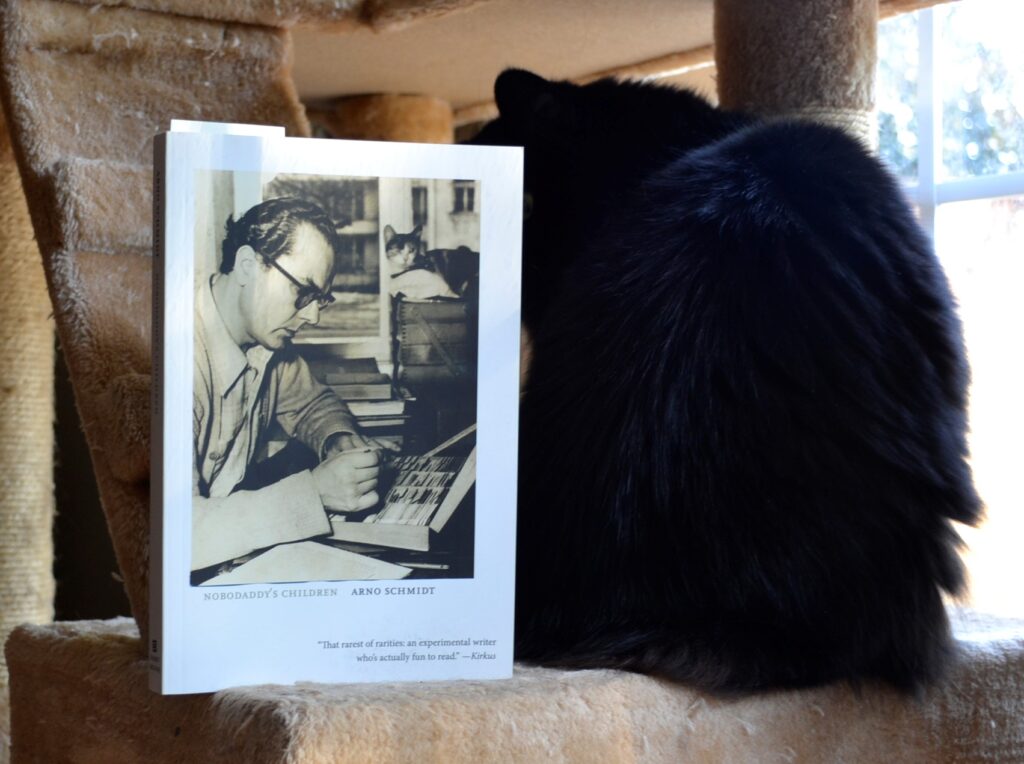 However, I'm very grateful that John E. Woods did translate it, because Schmidt's work deserves to be read, especially by scholars and those drawn to modernist literature.
A Collection of Three Novellas
Nobodaddy's Children (Nobodaddy's Kinder) is actually a collection of three novellas — Scenes From The Life of A Faun (Aus dem Leben eines Fauns), Brand's Heath (Brand's Haide), and Dark Mirrors (Schwarze Spiegel). In Scenes From the Life of A Faun, a government clerk living in Nazi Germany becomes obsessed with a deserter from the Napoleonic Wars after finding his hideout in the forest. Brand's Heath is about the time after the war, when a former POW and other survivors try to carry on with life in the face of shortages and uncertainty. Lastly, Dark Mirrors is a narrative that takes place in a post-apocalyptic landscape where the human face has been annihilated by war. One survivor is comfortable in his solitude until it shatters.
All of these novellas have a lot of things in common, but I think the strongest thread that unites them all is that their narratives focus on a main character that has both a profound need for people, but at the same time a profound distrust of them. A disappointment with humanity and all of the cruelty humanity is capable of. These stories are haunting and have a stark expression of solitude in them, whether that solitude takes a literal form or only is an internal state or feeling. It also expresses in different ways. One character deals with it by being deceptive, secretive, and duplicitous, whereas another tries to reach out only to be left behind. The last celebrates finding another human being, only to lose them again.
Also, as post-war narratives, these stories have a sense of trauma and instability. The world has been turned upside down through violence and death and characters are attempting to start again and pick themselves up from the ashes and deal with past traumas. There's a numbness, and a sense of silence or apartness to it. Like the burden is there, but not mentionable. Carried, but not within reach. Schmidt uses free flowing words to convey what would be difficult to describe using traditional prose.
Words and Phrases
Sometimes when I've had a bad week, I will make sure to select books that require a bit of extra concentration because it's these books that make it easier for me to forget what's going on around me. I just let the words, phrases, descriptions wash over me as I sit in my chair by the window. I talk to my lovely spouse about them and we do some research on the book together. It's the perfect way to distract and disrupt my racing negative thoughts.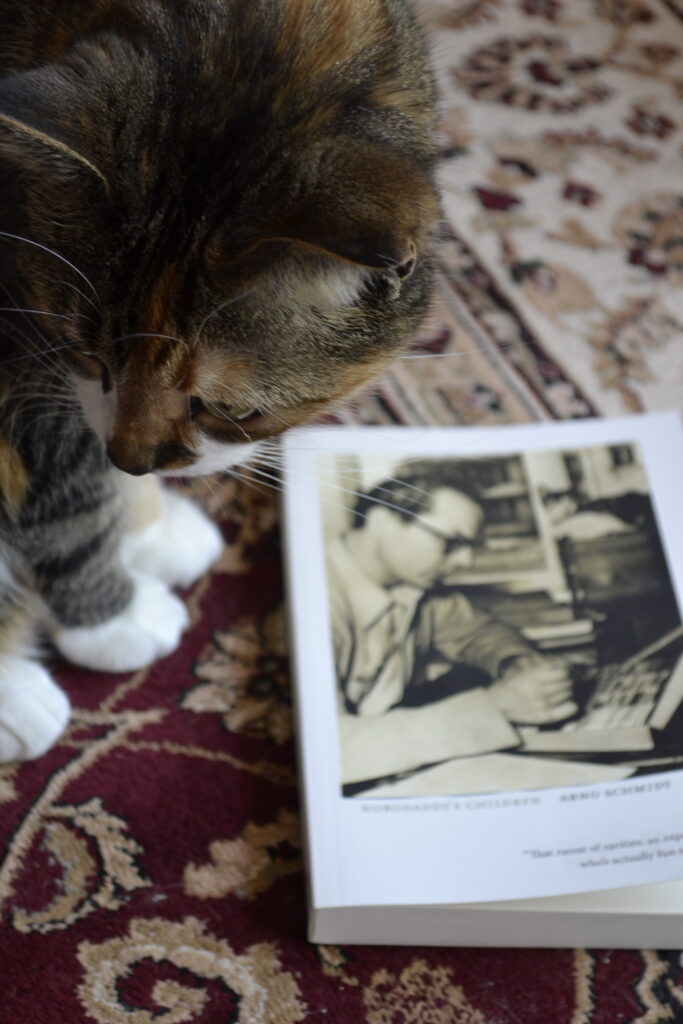 I just breathe. I focus on the ink on the page and on my lovely spouse's words. We sit in the sunshine with the cats all around us and the bunny happily hopping around, and it feels like everything is okay and I can breathe again.
Bad days happen, but so do good ones.