Bunny Weekend
On the spring long weekend, our household has 'Bunny Day'. Bunny Day is a time when my lovely spouse and I celebrate spring, have a bit of an extravagant dinner, and put each of the cats in bunny ears for a picture taken at the speed of light (or at least sound). But Bunny Day is also the day that we chose to celebrate Lucy's birthday.
We only got to celebrate two birthdays.
So, this year, there's a bit of sadness settled into all of the pastels and the fresh flowers as we remember Lucy and miss her terribly. I still look for her when I give the cats their treats at night, remembering how she used to dance around my feet for the apple dumpling treats that I gave her at the same time. It's still hard to remember that we don't have to save the carrot tops any longer, or get an extra bunch of kale when we get groceries.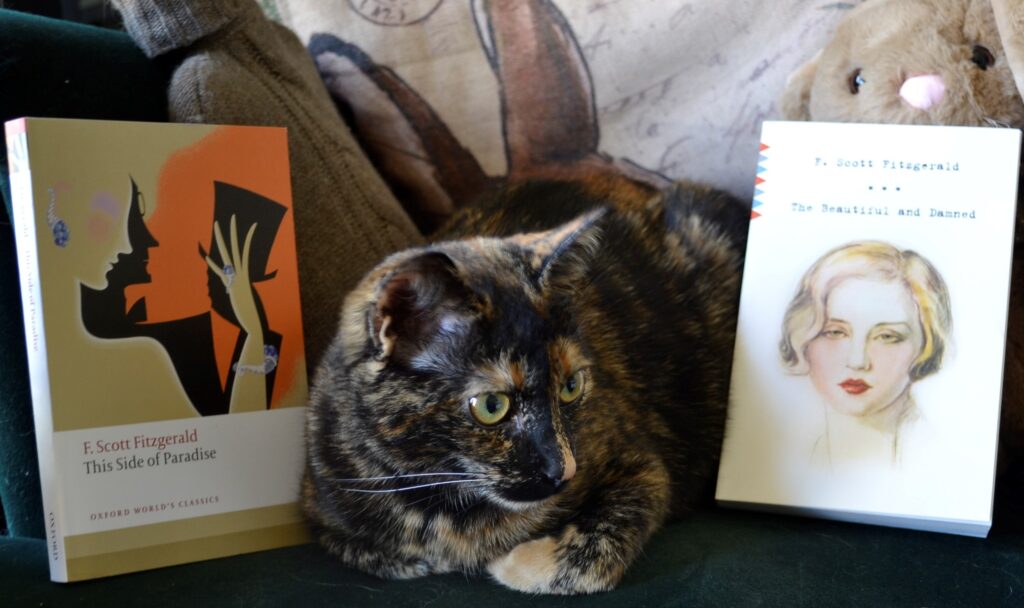 It hasn't quite been a year yet since she's been gone, but I'd rather remember her on the day we chose to celebrate her life instead of the day that it ended. She was such a special little bunny, and she was always so full of affection for us and for her kitty sisters. Bunny day will never quite be the same without her.
This Side of Paradise
This week I've decided to write a double review since both books are by the same authors and both are at least semi-autobiographical.
This Side of Paradise chronicles the youth of Amory Blaine, who attends Princeton University, goes to war, comes home, and starts blundering through life with little direction and less idea of who he is and where he's going. Blaine is clearly a stand-in for Fitzgerald's experiences as a Princeton undergraduate, and the bulk of the novel is spent at Princeton, describing the social aspects of student life as well as the turning point when youth becomes young adult and the dawning of independence and agency. The book really captures the immersive though isolated world of university life and that moment when you realize that it's time to think for yourself and find out who you really are and what you stand for.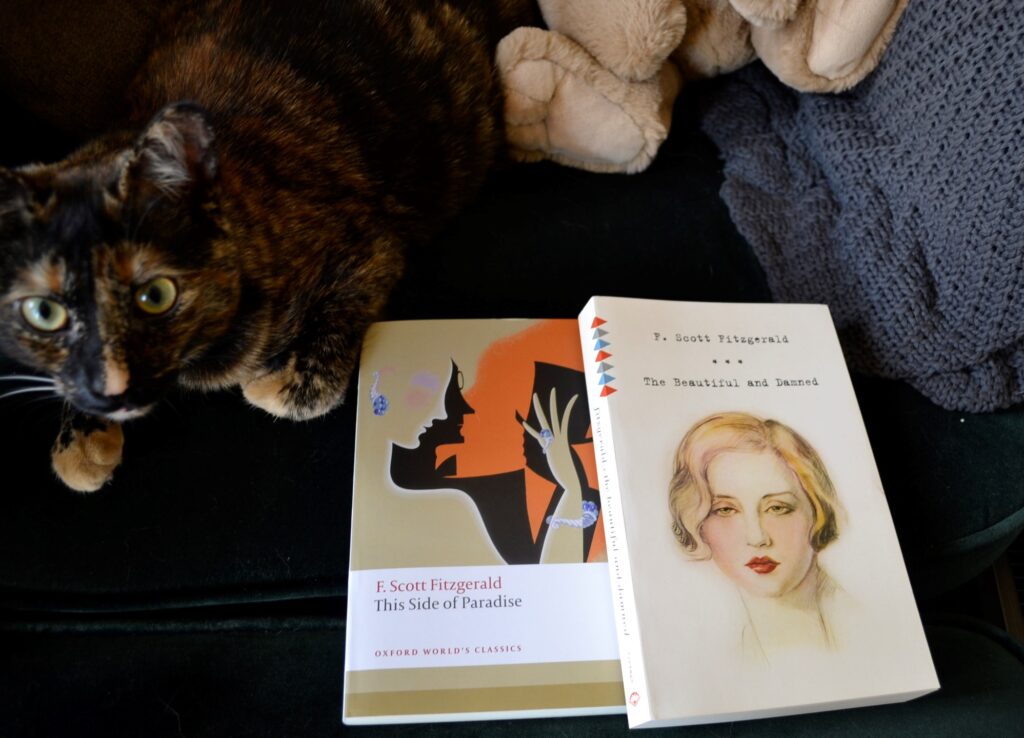 The Beautiful and Damned
The Beautiful and Damned is a novel about Anthony and Gloria Patch, newlyweds who are living beyond their means and counting on an inheritance to sort out their growing debts and out-of-control lifestyle. At least partially based on the marriage of F. Scott and Zelda Fitzgerald, the events and characters swim in a chaotic, lavish environment full of money until there is a lack of it, and a reckless pursuit of a life free of work but nevertheless searching for purpose.
To say that it is the story of the Patch couple's downfall wouldn't quite capture the slice of life that the novel tries to capture. Reading The Beautiful and Damned is reading about the New York of the turn of the last century, including the landmarks and the habits and haunts of the young and wealthy.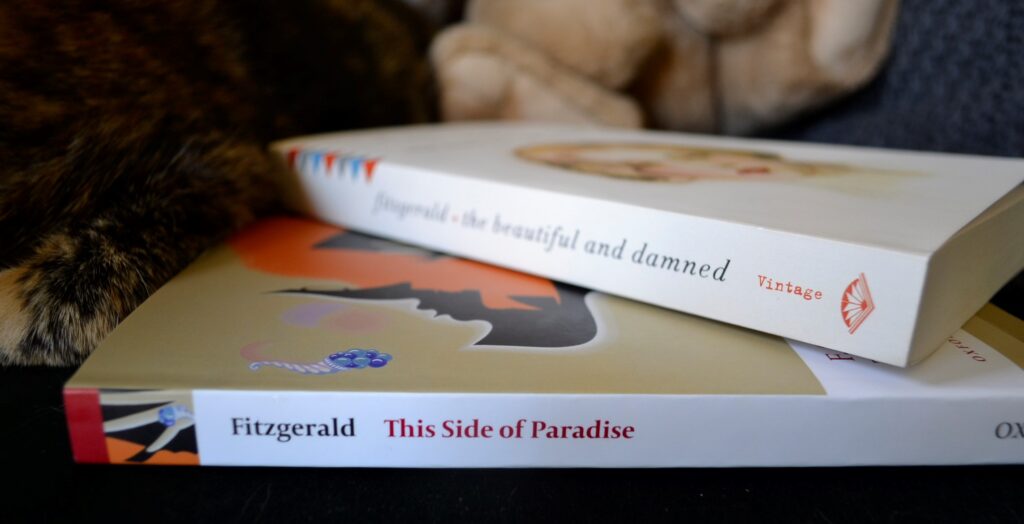 Crediting Zelda Fitzgerald
I've decided to list Zelda Fitzgerald as a co-author on both of these books because without her they wouldn't be the works that we know them as today. It's known that her diaries provided the source material for Scott's writing to the point of nearly exact word-for-word replication. Zelda edited and shaped his work, and Scott used passages from her letters almost exactly in This Side of Paradise, for example. Though the novels are heavily written Blaine's and Adam Patch's perspectives and both are stand-ins for Scott, there is a lot of content that is written from the perspective of Blaine's various lovers (specifically Rosalind Connage), as well as Gloria Patch who are Zelda's stand-in characters.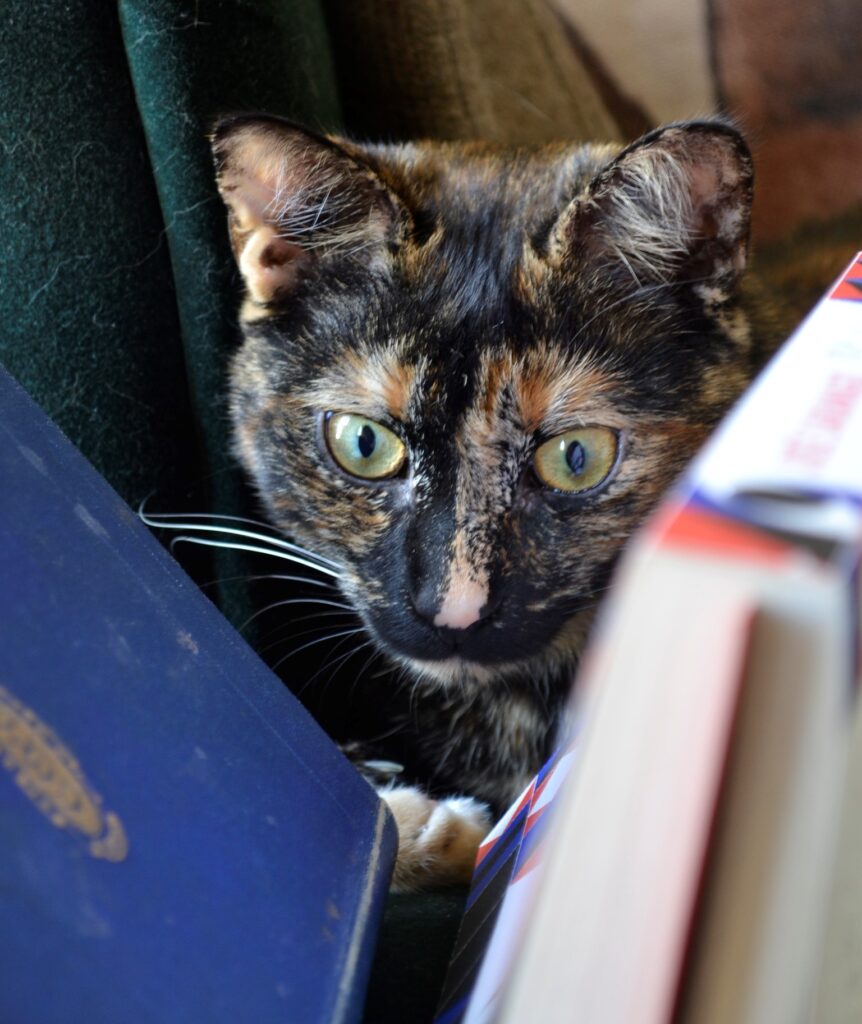 Scott used Zelda's words, ideas, and in-depth critique to make his work what it was. She drew illustrations for dust jackets and helped him with plot issues. Their lives were the building blocks that constructed both of these novels. This Side of Paradise was a successful book — multiple printings as well as commercial, critical, and financial success. The Beautiful and Damned was commercially successful contemporarily and in time would enjoy literary acclaim.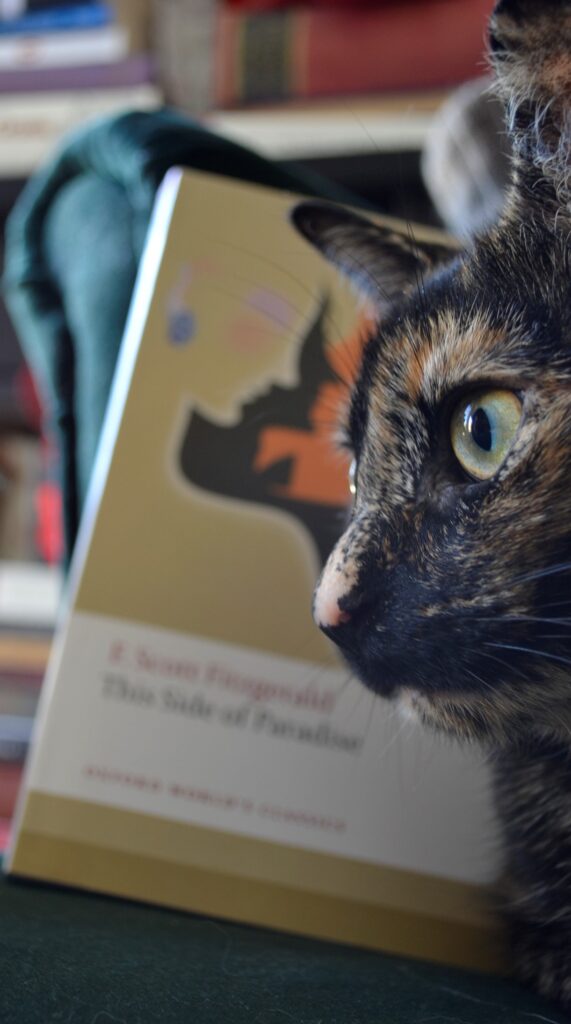 Zelda Fitzgerald did much more than just read Scott's work over and check for errors. She helped it to exist and provided so much material and effort and writing that she deserves credit for it as a co-author.
A Word of Warning
I will warn that in these novels there are several instances of racism that are difficult to read and utterly shocking. Specifically, The Beautiful and Damned features an extensive section describing the Patchs' Japanese servant, whose name is Tanalahaka who they refer to as 'Tana'. Tana is an offensive, racist caricature and it's a horrible passage to read. There's an overblown written-in accent, and some outlandish and stereotyped behaviour. Again, it's horrible.
There's no excuse for this kind of writing and attitude in the modern era (there really was no excuse for it in any era). It's important to put this work in context and to recognize that this kind of historical 'humour' is hurtful, horrible and not funny. The novel reflects attitudes and depictions that were acceptable at the time, but are thankfully no longer acceptable and should not appear in contemporary fiction or media.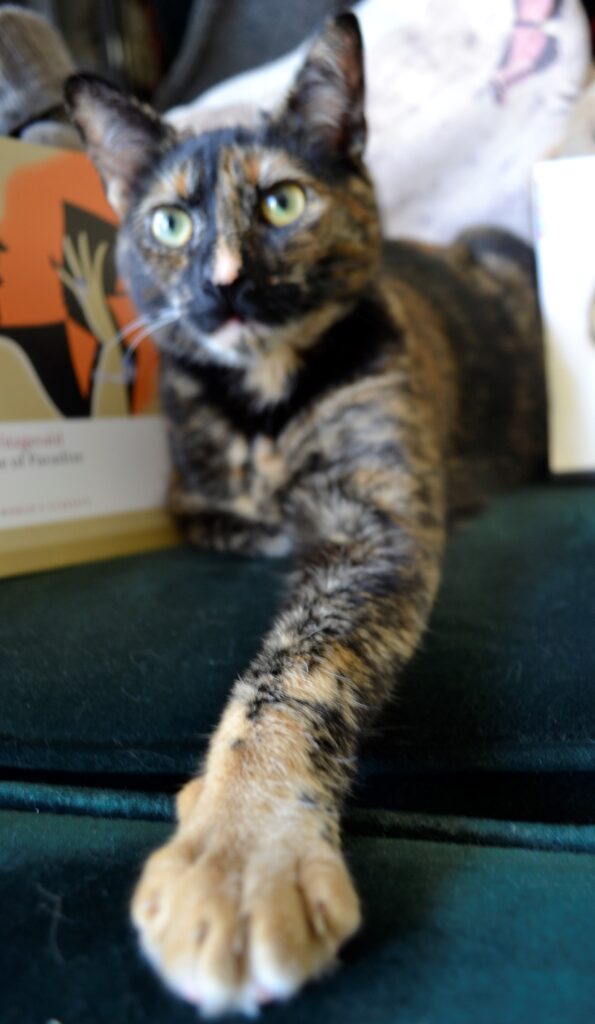 Stop Anti-Asian racism, hate, and violence. There is no excuse for it. There never was an excuse for it, and there never will be an excuse for it. It's that simple.
Too Much Chocolate for the Foreseeable Future
'I cannot wait to eat all of that chocolate.' That's always the first thought that I have on Bunny Day. However, that thought turns into a rather sour grimace when several days have passed and we still have a whole mountain of it still to eat before it turns the corner to stale.
This year we tried to restrain ourselves, and not buy quite so much of that super delicious artisanal chocolate from the local chocolate paradise. But I think we still bought just a little bit too much and this year won't be altogether that much different from every other year.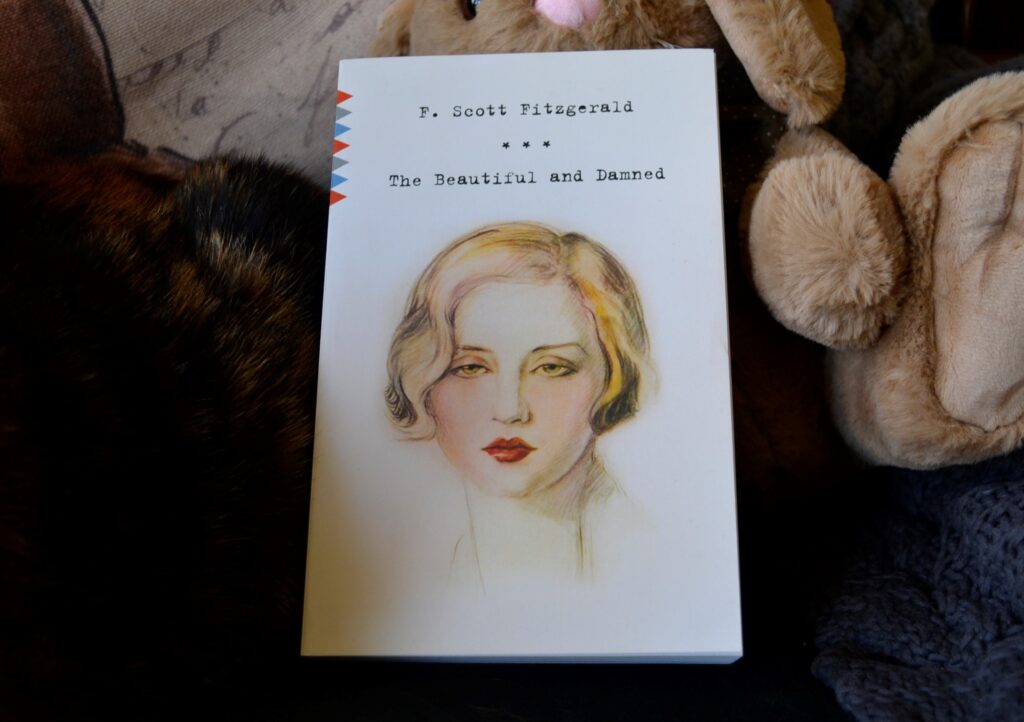 That concludes this review of a little piece of my current reading stacks. Have a great long weekend, whatever you celebrate! Happy spring!